June 4, 2023 - August 6, 2023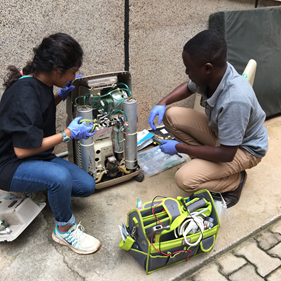 Training: Kampala, Uganda
June 4 - July 1
Hospital Placements
July 2 - August 3
Final Conference: Kampala, Uganda
August 4 - August 6
The Uganda Summer Institute trains and places up to 20 participants to assist hospitals and other healthcare facilities in Uganda.
During the first month, participants live and work alongside Ugandan biomedical engineering students from Makerere University, a prestigious university in Uganda's capital, Kampala. The program starts with four weeks of training from instructors at Makerere University. Participants study the public health care system in Uganda, learn basic Luganda language, and receive lectures and hands-­on lab training in medical equipment repair for low-resource settings.
During the second month, participants are placed in teams of two to four and assigned to a regional healthcare facility, where they work closely with local technicians and medical staff to make equipment repairs, execute trainings, install equipment, or perform other engineering duties.
Download Application Packet Here For More Details