To be effective in responding rapidly and comprehensively to requests for assistance, EWH depends on a small but very committed staff supported by interns and volunteers. We welcome your involvement. Please contact us for more information about any positions.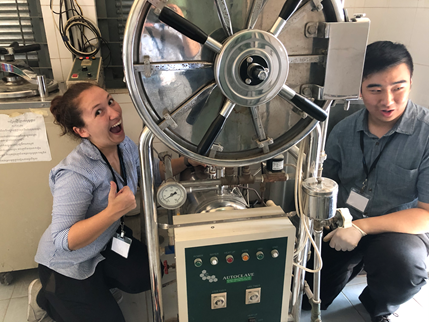 Jobs
We are always interested in receiving resumes from highly qualified individuals with experience in global health and biomedical technology. We are currently looking to fill the following positions:
Manager, Finance and Administration
Part-time position. EWH is seeking an accountant with experience handling finances for non-profit organizations. Position is based in Durham, NC. Read full description for details. Interested applicants should submit a cover letter with salary requirements noted and a resume to CEO@ewh.org.
On-The-Ground-Coordinator (OTGC)
Short-term contractor position. Multiple positions will be available in the Summer of 2021. Salary, airfare, and living stipend are provided. Former EWH Institute participants are strongly preferred.
Internships
From time to time we have opportunities for interns. In the past, interns have helped us with business planning, marketing strategies, Kit design, STEM education, and legal issues. For information about what is currently available, please contact us.
Volunteer positions
We welcome volunteers, especially student engineers, recent graduates, and retired engineers and BMETs. A great way to get involved as a volunteer is to form or join and EWH Chapter. Past volunteers have helped with the EWH Kits program, while others have also had the opportunity to travel to developing countries to assist local coordinators of the Summer Institute program.