Nepal Summer Institute
---
EWH's Nepal Summer Institute is a training and service trip facilitated in partnership with the Technical University of Denmark. 
During this program, students will help repair much-needed medical equipment in Nepal as the country continues to recover from devastating earthquakes. 
This program is only open to previous EWH program participants and new students from Nordic-5 Tech Alliance universities (Aalto University in Finland, Chalmers University of Technology in Sweden, Technical University of Denmark, Royal Institute of Technology in Sweden and Norwegian University of Science and Technology). Students who have already participated in a previous EWH Institute are considered EWH alumni and are not required to complete DTU Course 22446. 
New students will complete a 3-week preparatory course in June 2023 at Technical University of Denmark (DTU) in Lyngby, near Copenhagen. Read more about this course here.
OVERVIEW
The Nepal Summer Institute places up to 30 program participants to assist hospitals with critical medical device repairs and other services. After the training course at DTU, students will travel to Kathmandu, Nepal. Our partner, Volunteer Society Nepal (VSN), arranges accommodation and provides Nepali language and culture training. After orientation and training in Dhulikhel (just outside of Kathmandu), students begin working in groups of two to four at EWH partner hospitals throughout Nepal. Participants will install and repair hospital equipment, train and work with local staff, and perform a multitude of other tasks utilizing their engineering skills and knowledge. Participants will either stay with homestay families or in guesthouses. 
Tuition for the preparatory course at DTU is separate from the EWH program fee and is free for members of the Nordic-5 Tech Alliance. Non-DTU students taking the preparatory course can be accommodated in student housing. Reach out to acco@adm.dtu.dk for details on availability and pricing. If you have any questions regarding this program or the application, please email us at summerinstitute@ewh.org.
June 12 - June 30, 2023
Program Dates (in Nepal):
July 2 - August 14, 2023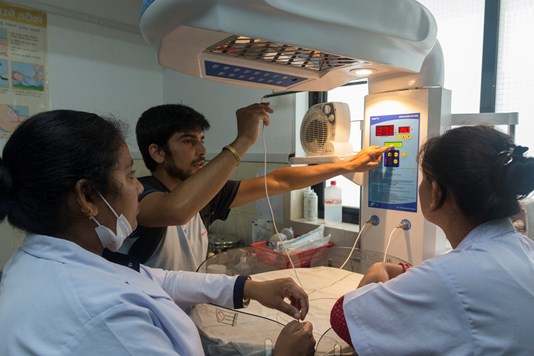 Download Application Packet Here For More Details