The Pressure-Calibration Kit is a teaching tool for hands-on skills and engineering concepts. Once the kit is assembled students must calibrate the gauge for pressures ranging from 0-5psi. Once calibration is complete the gauge can be used for laboratory experiments and other activities. 
Engineering World Health's Kits are solely for educational purposes and are not to be used for any other purpose, including any medical, diagnostic, or other laboratory applications.
If you would like more information, send an email to Kits@ewh.org, or order from our website using the Order Form.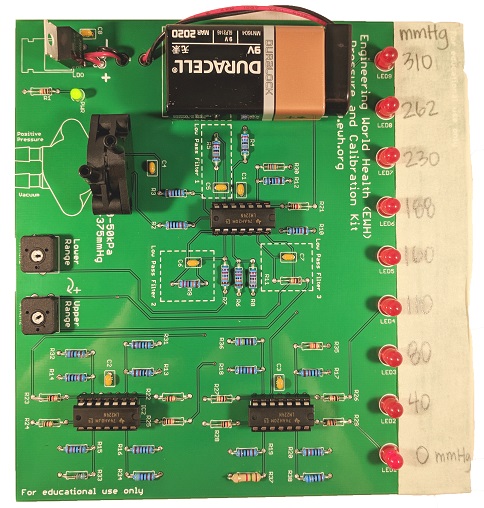 Click here for the assembly instructions (powerpoint presentation)
Calibration procedure video
Pressure-Calibration Kit Pricing:
Quantity

Unit Price

EWH Chapters and

K-12 Educators

Unit Price

Additional Kit Information

1-10

$65.00

$45.00

• Kit Packaging Dimensions:  8-5/8 x 5-3/8 x 1-5/8 inches (flat rate box) 


• Shipping Weight: 7.2 ounces (including the box)

• Kit does not include batteries

• Domestic Shipping (U. S. only)

• Delivery time: 2 weeks

11-20

$60.00

$43.50

21-30

$54.00

$42.00

31-40

$45.00

$40.00

41 or more

$39.00
Returning EWH Kits: You are welcome to keep EWH Kits; however, if you would like to help improve training and education in low-resource settings, return assembled kits to the EWH address below.  
Engineering World Health
Attn: Kits
151 East Rosemary Street, Suite 201
Chapel Hill, NC 27514