EWH UC San Diego Hosts 3rd Annual HealthHack
For the third year in a row, the EWH Chapter at the University of California – San Diego hosted their HealthHack. This year, 181 participants could choose one of two tracks: health care delivery or refugee health. This highly interdisciplinary and collaborative event featured more than 35 completed proposals, with support from 57 mentors and judges from a variety of fields, and awarded $12,000 in prize money.

Health-themed hackathons are becoming more popular across the country as more groups recognize the creative power of interdisciplinary teamwork. These intense two or three day events give participants the chance to meet and work with new colleagues, and the competition sharpens their focus on finding solutions to real-world challenges. In some cases, teams may continue to develop their ideas after the hackathon, as an EWH Johns Hopkins team did last year.
At UCSD's HealthHack, the winning team in the global health track created "Blueprints for Life." This web-based platform is designed to connect refugee communities to engineering teams in order to empower refugees to find and implement solutions to challenges within their community. Beverly Yu, a junior studying bioengineering, was a member of the winning team. She explains, "By increasing the efficiency of project development and likelihood of implementation, Blueprints for Life aims to be the 'one-stop shop' for both engineers in search of projects, and refugee communities in need of solutions."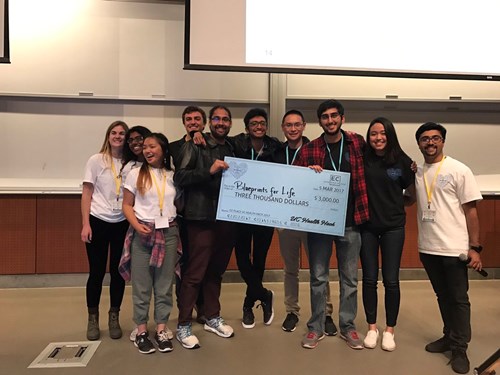 Events like UCSD's HealthHack demonstrate what students invested in global health can achieve, as well as the impact interdisciplinary work can have in finding creative solutions. Read more about the HealthHack and its other winners on the HealthHack & UCSD Health websites.
Congratulations to the UCSD Chapter on another successful HealthHack!