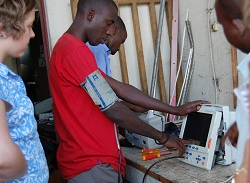 Engineering World Health began its BMET training program in late 2009 to provide a training course for biomedical equipment technicians in Rwanda. In partnership with the GE Foundation, the program is striving to implement good Healthcare Technology Management and to provide the Rwandan health system with enough BMETs to maintain and repair medical equipment in the Rwandan hospital and to lift the system to a higher level.
Rwanda is experiencing a remarkable recovery from a devastating civil war that occurred in 1994. However, the nation still suffers from a severe lack of trained personnel in the healthcare professions. Much of the medical equipment in Rwandan hospitals is now non-functional, due to a lack of spare parts and consumables, donations without value, and a lack of trained technicians to maintain and repair it. As a result, the health system loses the opportunity to treat and diagnose patients, exacerbating the country's difficulties with diseases, such as HIV/AIDS, malaria, and TB, and with primary healthcare for non-communicable conditions such as heart disease and diabetes.
This BMET Training Program includes three years of courses, twice a year for eight weeks. Technicians work in government hospitals and come to class to be trained. The Ministry of Health supports the program by allowing the technicians to attend class, and by paying for their transport, accommodation and food.
In November 2012, the first class of BMETs graduated, followed by the second class in November 2013.
Since early 2012, the BMET training has taken place at Integrated Polytechnic Regional Center (IPRC) in Kigali, Rwanda. IPRC has proven to be an excellent choice as educational partner. In September 2012, IPRC started a three-year, full time, advanced diploma program. EWH's role in this program is purely supportive. We help IPRC build labs, train trainers and optimize the curriculum, but IPRC has full ownership. IPRC is also extremely cooperative in realizing that accreditation is important if current students and recent graduates are to receive a diploma with real-world value.
With the continued partnership of the GE Foundation, EWH collaborated closely with IPRC and the Ministry of Health to implement Centers of Excellence, Train the Trainer programs, and mentoring of BMETs by senior BMETs from developed countries. In 2016, EWH transistioned the Rwanda BMET program fully to IPRC's control. When we began the BMET Rwanda program in 2009, there were no trained BMETs working in the country. Today, there are trained BMETs in every district, with more graduating from IPRC each year. BMETs in Rwanda have made special efforts to build a strong professional network, and have created the Rwanda Association of Medical Engineering (RAME).
BMET Rwanda has been a wonderful project, with a great team of employees and partners ready to make a difference!