48 Students Complete a Virtual Engineering Exchange Program Between UC Berkeley and the University of Nairobi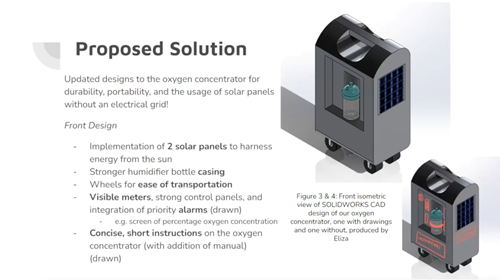 In addition to in-person Institutes in Guatemala, Uganda, and Nepal, this summer the EWH team facilitated a virtual engineering exchange program between students at the University of California, Berkeley and the University of Nairobi in Kenya. 
During the Virtual Global Innovation Workshop, 48 students collaborated for six weeks on biomedical equipment design projects for low-resource settings. Ten teams completed design projects ranging from solar-powered oxygen concentrators and autoclaves to a centralized database for mapping the global supply and demand for medical equipment. 
Below is a complete list of projects completed as part of the  Virtual Global Innovation Workshop:
Team 1: Durable Portable Oxygen Concentrators Powered by Solar Energy (pictured)

Team 2: Low-cost, Low-waste Pulse Oximeter to Deal with Racial Bias 

Team 3: Oxygen Tank Safety Modifications

Team 4: A Global Centralized Platform for Connecting Medical Equipments from One Corner of the World to Another

Team 5: Solar Powered Autoclave: Sterilization Made Efficient and Innovative

Team 6: An Affordable Method to Measure Oxygen Concentration: Oxygen Analyzer with an Off-grid Power Source

Team 7: Solar Powered Water Filtration System for Autoclaves

Team 8: Enhancing Safety in Oxygen Cylinder Transportation through Protective Casing with a Secure Grip Cylinder Stand

Team 9: A Reliable, Lightweight Oxygen Concentrator for Low-Resource Settings

Team 10: A Centralized Database for Maintaining Medical Equipment
In addition to learning about the engineering design process and the unique needs of low-resource healthcare systems, students indicated that they gained valuable skills in project development, teamwork, leadership, communication, public speaking, and critical thinking.
Most participants plan to pursue further education and research in fields related to biomedical engineering and global health, and many have entrepreneurial ambitions. One student whose team designed a portable oxygen concentrator said, "I plan on using the skills I have learned to apply it to my Master of Engineering program at Berkeley and then hopefully to use these skills when I pursue a startup."
In partnership with EWH, the Virtual Global Innovation Workshop was managed by Cecil Chikezie, a graduate of both UC Berkeley and the University of Nairobi. Dr. George Rading from the Department of Mechanical Engineering at the University of Nairobi, Dr. Phillip Messersmith, Chair of Bioengineering at UC Berkeley aided with funding and recruitment. Special thanks to Julie McShane and Alicia Mandac at UC Berkeley's Fung Institute for Engineering Leadership at UC Berkeley and Churchill and Amani of the Engineering Students Association at University of Nairobi for their support in making this program a success. 
 "We were thrilled to be part of this virtual exchange program, as it aligns perfectly with our mission to cultivate engineering leaders who can address real-world problems in diverse and resource-constrained environments," shared Julie McShane, Director of Career Development at the Fung Institute. "We look forward to continuing its collaboration with Engineering World Health and other partners to expand the reach of these virtual exchange programs and empower more students to contribute to impactful engineering solutions for global healthcare challenges."

The Virtual Global Innovation Workshop was funded by a Mastercard Foundation Faculty Seed Grant and UC Berkeley's Bioengineering Department, with additional support from Engineering World Health. 
For more information on EWH's past virtual programs and partnerships visit: https://ewh.org/the-institutes/virtual-programs/
To learn how EWH can support your students with a virtual exchange program, email info@ewh.org.