RIT Students Travel to Guatemala on our first January Institute since 2020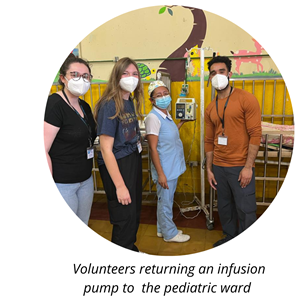 Last month, EWH successfully concluded our first January Institute since the start of the COVID-19 pandemic in 2020. 
After completing a training course at Rochester Institute of Technology, eleven undergraduate students traveled to Guatemala for a three-week Institute. They completed orientation and language training before moving to their hospital placements to serve as volunteer biomedical equipment technicians in small groups around the country.
During their two weeks of hospital work, participants completed an estimated $144,000 worth of service and repairs. A total of 72 pieces of equipment were returned to service across four different partner hospitals.
In addition to medical equipment, at the request of hospital staff participants repaired a number of items not related to patient care, but nevertheless critical to the functioning of the hospital, including multiple computers, a copier, an electric stove, and other kitchen equipment such as blenders and milk pasteurizers.
They described the program as "exciting," "fulfilling," and "uncomfortable - in a good way." Many participants noted that being immersed in a new culture and gaining experience in a clinical setting were the most valuable parts of the trip. 
Participants felt challenged by the language barrier and the short amount of time they had in-country, but despite these obstacles, they found the experience rewarding. One student said, "This program really forced me to get out of my comfort zone. It was my first time doing something like this and I was really nervous in the weeks leading up to the program. I ended up loving it and I am so grateful for the experience."
EWH would like to thank all of the students, coordinators, instructors, partners, and donors who helped make this program possible!
Read more about their accomplishments and experiences in our final report.