June News: VEIC Launch, Kits for Classrooms & more
Dear Friends,
It's an exciting time of year for EWH!
Earlier this month, we successfully launched our Virtual Engineering, Innovation, and Cultural Exchange program with the first cohort of 85 university students from the US, Lebanon, and Jordan.
So far this summer, thanks to your support and our outstanding partners, EWH's Kits for Classrooms program has reached nearly 750 students in Title 1 schools across three states.
After an incredible eight years with EWH, we're saying farewell to our Manager of Communications and Development, Jessica Baker, as she embarks on an exciting new journey and completes her Master's degree in Public Health from George Washington University. Please join us in thanking her for her dedicated service - we wish you all the best, Jessica!
As always, we are thankful for your support as we work to provide programs, training, and opportunities to help address healthcare challenges around the globe.
Sincerely,
Tojan B. Rahhal
CEO & President
---
Welcome to the Team!
Rachel joined EWH in June 2021, bringing with her six years of experience working for nonprofit organizations in communications and development roles, as well as a BA in Spanish with a minor in Latin American Studies from Ohio University and a Master's degree in Nonprofit Management from Case Western Reserve University. International development and response has been the focus of her career, having previously worked in refugee resettlement and with the Latin American diaspora in Northeast Ohio. In her spare time, Rachel enjoys being outdoors, traveling, learning new languages, and exploring new places.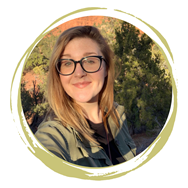 ---
Virtual Engineering, Innovation, and Cultural Exchange
Earlier this month, EWH's Virtual Engineering, Innovation, and Cultural Exchange kicked off as 85 university students from the United States, Jordan, and Lebanon met their teams!
As part of this free six-week program, participants will learn and work in international teams with an experienced mentor. Together, they will explore biomedical device design and complete design projects focused on common hospital equipment challenges in low-resource settings.
There is still time for high school students to apply for the August program! Click here for more information and to register.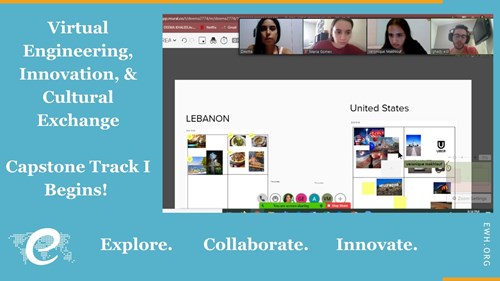 The program is supported by the Stevens Initiative, which is sponsored by the U.S. Department of State, with funding provided by the U.S. Government, and is administered by the Aspen Institute. The Stevens Initiative is also supported by the Bezos Family Foundation and the governments of Morocco and the United Arab Emirates.

---
Chapter of the Year | University College Dublin
Congratulations to EWH University College Dublin on being named our 2021 Chapter of the Year! This outstanding group of 34 university students has been hard at work in the last year, growing their chapter membership, raising awareness about opportunities in STEM, and coming up with innovative solutions to global health challenges!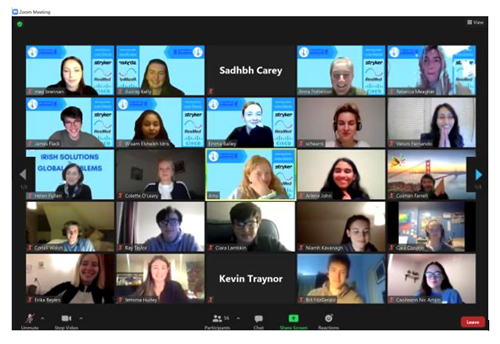 Some of the UCD Chapter's accomplishments include:
- Completing design projects to address challenges faced by low-resource hospitals, including an affordable simulator model for bronchoscopy training to address the lack of equipment in Uganda, as well as development of a device called MidazoClamp, a safer and less invasive way to administer medication to patients with epilepsy
- Designing and implementing an outreach program aimed at students ages 13-18 to engage students in fun, creative engineering challenges and get them excited about STEM
- Currently participating in the NovaUCD Student Enterprise competition and preparing to present two entries for the EWH Design Competition at the Dublin Maker Festival
- Making it to the semi-finalist round of the Cisco Global Problem Solver Challenge
- Winning the UCD Investors and Entrepreneurs Startup Accelerator and Dragons' Den Pitch Off
---
BMET Library
EWH fosters information exchange among engineers and technicians around the world through its BMET Library. This library, which is free and available for everyone, contains a collection of open-source books, publications, and other resources relevant to training BMETs, particularly in low-income countries.
Find more information here and visit the library at http://library.ewh.org.
---
Kits for Classrooms
EWH is bringing free STEM activities to classrooms!
Thanks to your support and partners like Danaher, so far EWH has provided Kits for Classrooms to nearly 750 students, grades 4-8, in five Title 1 schools across three states!
Our lesson materials introduce students to the key concepts behind each EWH Kit, what the devices do in real medical settings, and how engineering can play a role in global health.
Building the Kits provides students with hands-on experience as they learn engineering skills. EWH strives to connect classroom learning with real world applications so that students feel empowered to make change and explore STEM careers.
If you're a teacher or school administrator interested in bringing EWH STEM programming to your classroom, visit our website to sign up!
If you do not teach at a Title 1 school or otherwise serve students underrepresented in STEM, but are interested in bringing the Kits for Classrooms package to your class, it is available for purchase at $1,500 per 20 students. The Kits are reusable!