Dominican Republic 2022: EWH Concludes First Summer Institute Since 2020
One thing is clear from the feedback EWH received on our first Summer Institute after a two-year hiatus due to the COVID-19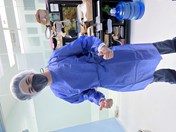 pandemic: support from our volunteer engineers was urgently needed.
15 students from the University of Portland's Shiley School of Engineering traveled to the Dominican Republic for a 3-week Institute where they served as biomedical equipment technicians in hospitals around Santiago de los Caballeros, the second-largest city in the country with a population of over 1.3 million people.
They were shocked to see how immediately the equipment they repaired was put back into use serving patients in need. Ryan, a second-year mechanical engineering student said, "Fixing beds that went straight to use was quite amazing - we were able to see our fixes go straight to being used." Jordyn, a recent electrical engineering graduate added, "We literally got to take our fixed beds to a room and see the patients use them and be excited to actually have a bed that works."
Several times, volunteers were able to respond to urgent situations. Alex, another recent grad, scrubbed into a surgery room to repair a surgery table; "…they needed [the table] in the next 10 minutes or so, so we had to go quickly and make the table operational," he said. Martin, a junior, who described the experience as "life-changing," told us that his favorite fix was replacing surgical lights during an active surgery. "It was one of the key moments that made me rethink my career path and make the decision to switch to neurosurgery."
In total, participants completed an estimated $270,000 worth of service and repairs: a total of 135 pieces of equipment across four different partner hospitals. "This team accomplished a lot in a short amount of time," said EWH Senior Projects Manager Megan Lavery. EWH CEO Dr. Tojan Rahhal added, "We're thrilled to be back on the ground supporting hospitals and communities in need, and thankful for the support of our donors who have supported us throughout the pandemic and our long-awaited return to international travel!"
View the full final report for the 2022 Dominican Republic Summer Institute here. 
This summer, EWH will also operate volunteer programs in Guatemala, Rwanda, and Nepal. Learn more about our Summer Institutes here.