Danaher Partnering for STEM Accessibility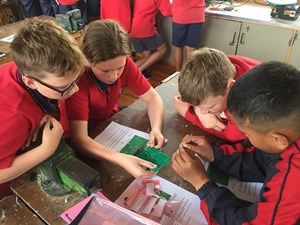 Engineering World Health (EWH) is launching Kits for Classrooms as part of our work to engage the next generation of engineers. EWH will partner with schools to bring free STEM activities to middle and high school classrooms to introduce students to biomedical engineering, exciting career possibilities, and the role engineering can play in improving global health.
Hands-on STEM activities give students the opportunity to apply the lessons they've learned, get creative, and practice problem solving. STEM learning empowers students as they discover their own abilities to have a real, tangible impact on the world around them.
We are excited to share that our partner, Danaher, is supporting our launch of the Kits for Classrooms program. Danaher's Corporate IT Team selected EWH as their Holiday Fund recipient and, combined with Danaher's formal sponsorship, their generous support will enable EWH to pilot our program in 8 classrooms. We aim to first bring our Kits and associated curriculum materials to classrooms grades 5-12. We will also expand our curriculum materials to K-4 in the future.  
We know that access to engaging STEM-based activities is limited in certain schools. Therefore, we plan to prioritize the participation of Title 1 schools, which is defined as schools with approximately 80% of students on free or reduced lunch. We believe our Kits for Classrooms program can be a step towards equity in science education. In addition, we plan on bringing a diverse array of engineers from around the world to speak with the students about the life of an engineer as students work on their Kits.
If you want to be our next sponsor, contact CEO@ewh.org. If you're a teacher or school administrator interested in learning more about the Kits for Classrooms program, fill out our Google Form here!